AKQUINET
PORT CONSULTING SERVICES
All our products are developed to be used by the client. We provide custom-tailored solutions that may be adapted by themselves to new demands. Of course we're ready to support our clients at any time they need us, due to staff shortage or time restrictions. The whole range of services around newly developed intelligent IT solutions will be merged by akquinet port consulting for its customers to a total strategic package.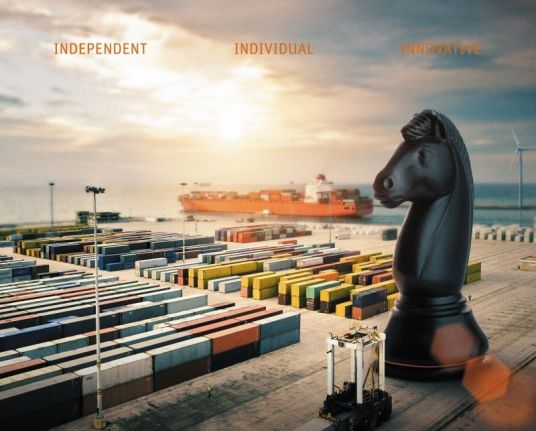 Our experts provide services around these products and are part of a huge network, which includes expertise from terminal operators, software engineers, terminal planners, etc. We enhance our clients to use the tools by themselves and we can assist in the start up of new projects. By implementing into the logistics enterprise it is shaped precisely – every single step figured out like a chess match – to the company's needs. By this a lasting effect for the customers is guaranteed
akquinet port consulting's second mainstay is the provision of various operating systems developed for regional stakeholders. We guarantee our business partners the improvement and customisation of order management and disposition systems of cargo handling and transport. This includes a long-term product maintenance and surveillance considering the know-how of the respective product developers.

You are not sure whether the terminal design drawn will allow you to achieve the throughput or performance? Does your design fit to your anticipated terminal business? How does the terminal extension fit into the whole picture? We can help you reviewing your terminal design and evaluate different strategies and terminal layout options. We can help you evaluating the design options in a study. Our consultants using our CHESSCON Simulation and Capacity tool will make a simulation of the port and the yard layout. This dynamic terminal simulation will help you choosing the right yard layout and the right setup for your equipment. We can also support you with choosing the rights steps to develop your greenfield or brownfield terminal. It can also give a preview on your carbon footprint simulating the CO2 emissions for the terminal.

How does the terminal layout design manage peak traffic? Is automation a valid option and if so, which kind of automation? How to optimize the brownfield terminal? Using our CHESSCON toolset we can evaluate the terminal design in a high level study or down to detailed simulations using CHESSCON Shift Preview. Here we can compare different approaches to the terminal operations and planning. The study can show which equipment could be best or how to optimize planning strategies. Evaluating pooling options, TWIN lift or different planning strategies can help you tuning your TOS. Using our CHESSCON Virtual Terminal we can help your process improvement team to evaluate new settings in your TOS and move into the right direction before actually trying it in real operations. Thus your planners will become Grandmasters in terminal operation.

So far training has been static? TOS training was focused on functionality and features? To boost your staff skills and increase the training value, we can have real scenario training with your TOS and have the users train in a real environment. The real TOS is used and real planning and operation is executed with CHESSCON pushing the users into pressure situation and trouble shooting to enable them to handle this using the TOS. Evaluate the planning output in a training lab to distinguish the best planner. Using our dynamic scenario training can increase you staff skill whether it is on a greenfield site getting ready or have a enhancement training or re-fresh training at your existing terminal.

The terminal and maritime business is changing like many others. Digitization and shipping 4.0 is getting at the fences of your port and terminal. Integration of your processes and system is a demand and challenge for small and big ports and terminal. IT will become more and more important to the business of the industry, so the right choice of tools and a good architecture for the IT landscape is imperative for future business. Our vast experience at akquinet and the good combination of IT specialists with industry experts can help you making the right moves. Connecting the physical environment and assets to your processes and systems, will be a good step forward and discover what is in the industry 4.0 revolution for you. And when your setup is already solid and modern, we can help you using advanced methodologies to dig into the data and start predicting. Predictive maintenance, integration of BI and Industry 4.0 can get a step ahead in operating more efficient. Our cross-industry experience at AKQUINET can help you with a brought view, when selecting and implementing these solutions.